February 2021 Newsletter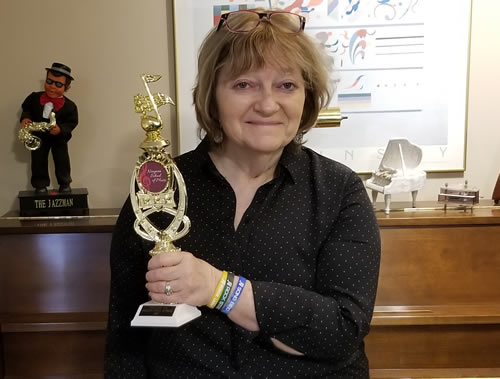 Hey everybody, it's Teresa Sanecki, director of Niagara School of Music in Welland and Niagara Falls and I'm here with another update. We appreciate your feedback that you're enjoying these updates. We're going to keep doing these throughout the pandemic to let you know what's going on at the music schools and the latest (and greatest!) news.
We'd like to give a big welcome to all our new students. If it's your first time with us, we are excited to have you! We are all so happy to see that at both locations, we have classes from ages 2 to 80, and we are here to help you with accomplishing your musical goals!
Speaking of goals, our students are super excited about the new Musical Ladder System® we have introduced at our school and receiving those really cool wristbands. As they progress up the Musical Ladder, there are trophies at certain milestones as well! Haven't heard about the Musical Ladder? Let me tell you about it!
Practice. It's not the most fun word ever created and it's definitely not a favourite activity of music students. But Niagara School of Music has helped to solve that age old problem by being the first school in Welland and Niagara Falls to license the Musical Ladder System®.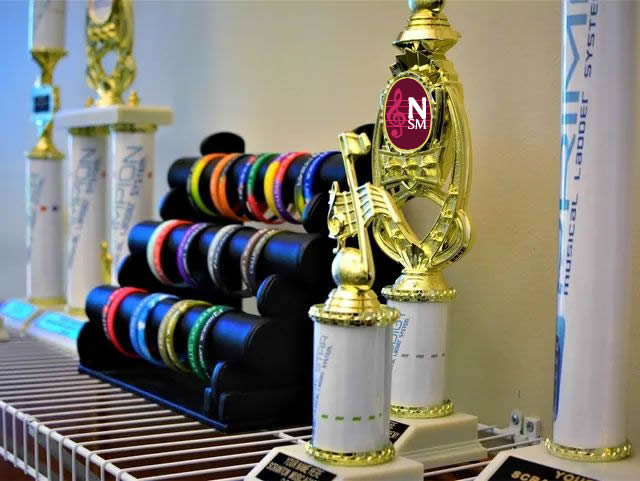 The music teaching system is being used by music schools across the U.S. and Canada to inspire music students to practice more and enhance their love for music.
Similar to karate belt tests, every 90 days students are assessed by their teachers. When they pass, they receive really cool colour wristbands with the name of the level they passed. They also receive a certificate and at some levels a trophy.
Parents and students interested in checking out this cutting-edge music teaching system should speak with their teacher.
Recitals
Our last recital in November was a tremendous success! Being online, it turned into an international affair with family members from all over attending! Pictured here are two of our students who participated in the recital, Liv, who is in our Junior Music Program, and Chris, who takes Private Guitar Lessons.
Our second recital series is coming up on Friday, February 19 and Saturday, February 20. Please reserve your spot through your teacher!

I want to end by giving three big "thank yous". Number 1 are our students. You are the heroes of 2020. You are the ones that stood by us! Thank you, students, for taking lessons with us in person and now online.
A second thank you to the heroes of 2020 are the parents. You may be behind the scenes, but you are noticed and greatly appreciated! Thank you for your hard work to give the gift of music to your child!
Last, but not least is a thank you to all our teachers. They've been working so hard to do virtual recitals, virtual lessons, in person lessons and they've made it work. They've done an A plus job. So, teachers thank you – thank you for all you've done and on to better things in 2021!