Hello Niagara School of Music!
We have had so much going on in our music community! Our first in-person recitals in two years were well attended and the kids did great! As well, our choir did a lovely rendition of "Must Be Santa"! We look forward to our February recitals!
Musical Ladder System is a great goal reaching program. Much like karate, kids have a goal set and once they have the assessment they get a really cool wristband or a wristband and trophy with their name on it. Check out our students who have received theirs recently. Congratulations!
Here is our holiday schedule:
Last class: Thursday, December 23
First class back:
Friday, January 7
Saturday, January 8
Week of Monday, January 10 to Thursday, January 13
Thank you to all of our teachers and staff for being committed to giving your best! Thank you to parents and students for bringing the gift of music into your lives!
A Peaceful Christmas and Blessed New Year to you all!
---
Niagara School of Music is Growing!
We Have a NEW Location!
New Location
Niagara School of Music now has 3 campuses: Welland, Niagara Falls and St. Catharines! Our newest campus in St. Catharines is located at 415 Linwell Road.  
---
Music Lessons Stockings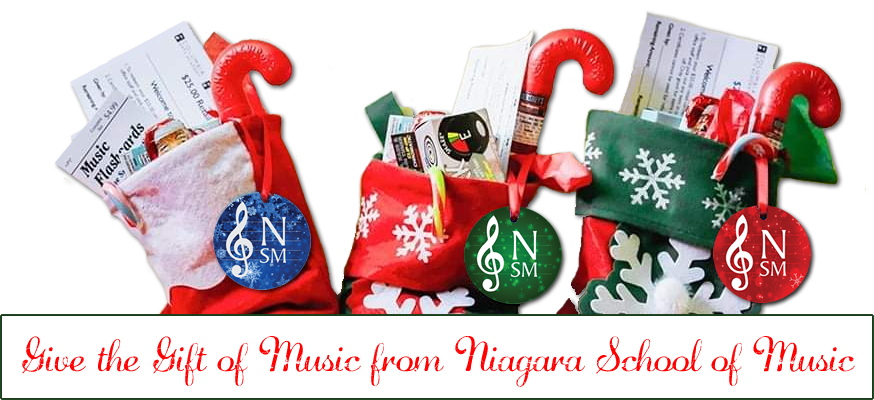 Are you looking for the perfect gift for your child or that special someone? Give them the gift of music!
We're offering stockings for group and private lessons that include free registration and the first month of lessons, as well as some other fun treats. When you give your gift of music to your friend or loved one, they will only have to pick a day and time for your first lesson at any of our three campuses in Welland, Niagara Falls and our new campus in St. Catharines!
Private lessons are for children and adults ages 8 and up.
Group lessons are for children ages 3 to 10.
---
Musical Ladder
Here are our latest Musical Ladder recipients.  Congratulations on all your hard work!
---
2021 Recital
Enjoy these photos from our recent in-person recitals.